"Mykonos Nostalgia" pays tribute to 60s jet set utopia with a vibrant recreation of holiday mise-en-scène from days gone by. Remember when Mykonos was a magical island kingdom, where jet setters and locals blended seamlessly against the sun-kissed backdrop? Well, we're here to remind you!
Chronicling the Good Life
In a place where nothing ever stands still, we have found that some things are worth holding on to. In fact, we have taken our philosophy one step further by reviving a series of unforgettable Mykonos moments that best capture the essence of this island. And most of them were recreated in and around at the Belvedere Hotel!
Inspired by Ellen Von Umwerth's 1995 editorial for Vogue, we take a trip down memory lane atop a fruit cart, a Mykonos trademark that will never go out of style. Besides, nothing says vacation like a watermelon slice, the jet set's favourite coolant – after champagne, of course!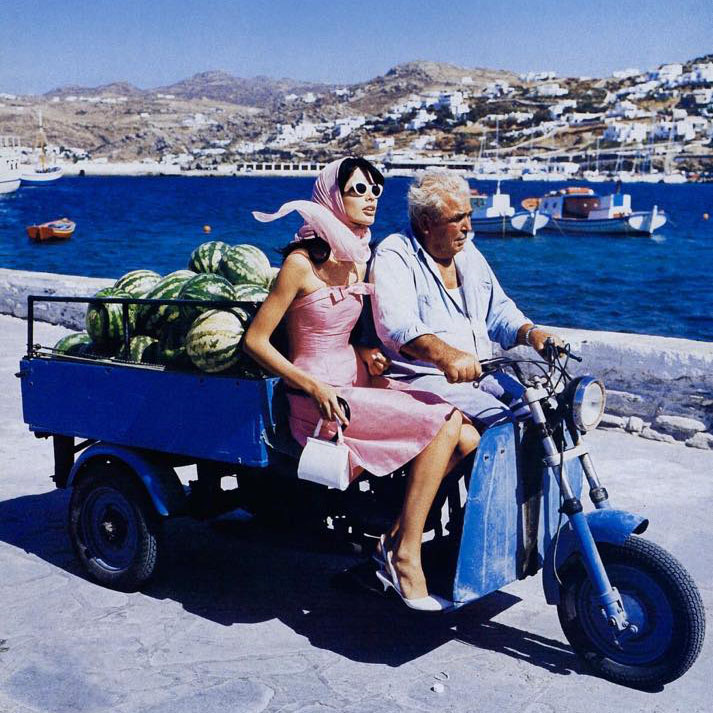 The old flower man was an indispensable summer commodity in the 60s, offering fresh bouquets that perfectly complimented breezy interiors and poolside outfits alike. Hand-picked and casually arranged in traditional wicker baskets, the flower man's bounty always resembled a casual art installation, all the better for being spontaneous.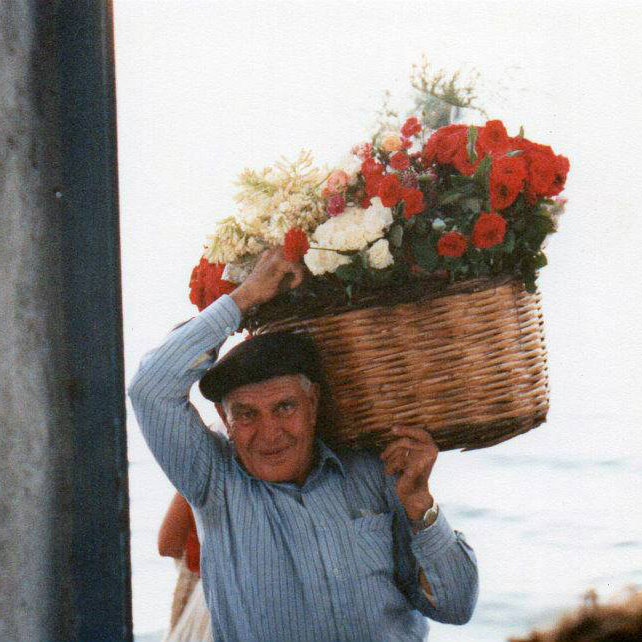 Life wasn't all fun and games, but chess and backgammon – played on opposite sides of the same wooden board – were intricately entwined with the midday lull in the fishermen's workday. We recreated this typical scene, complete with a fisherman's cap and a glass of ouzo, on the balcony of our favourite room view.
Genuine socialising and an unbridled sense of freedom were paramount to Mykonian days and nights. Our goal is to transmit these life-enhancing values to every single person who sets foot at the Belvedere Hotel.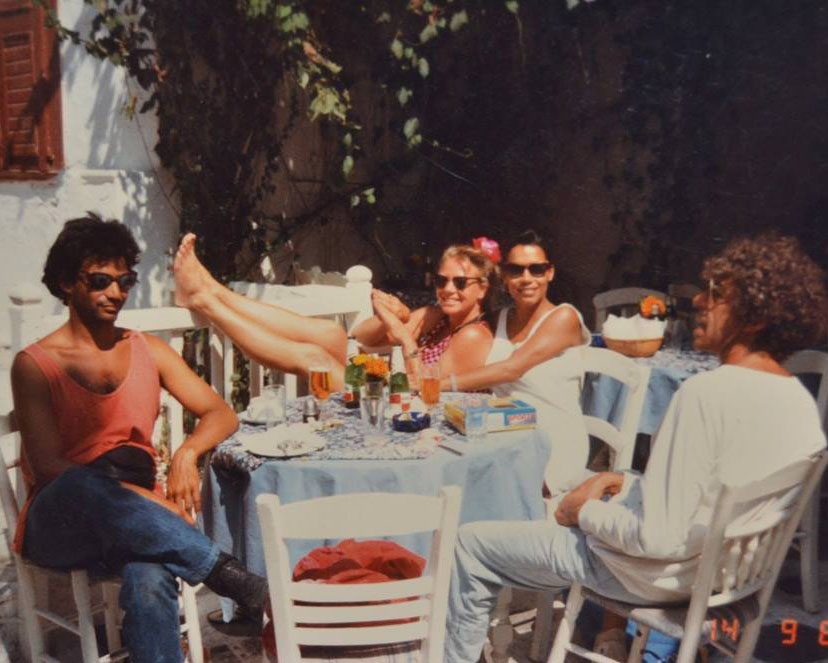 According to legend, the first Mykonos pelican was a rescue. A fisherman came across the wounded animal back in 1954, but, after nursing him back to health, he refused to fly away. Instead, he made Mykonos his home, frolicking around the port until the locals deemed him the local mascot. Petros, as he has come to be known, is now part of the island's social fabric and no one really knows how long the original bird lived before he had to be replaced. What we do know is that Mykonos wouldn't be the same without him…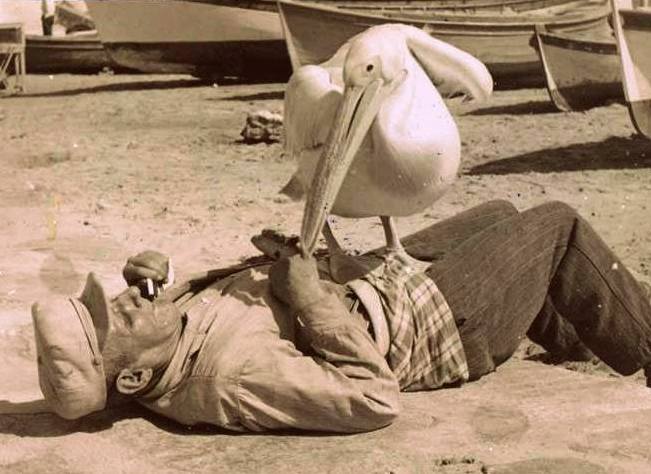 Donkeys are a Greek island staple, lending their patient nature to a variety of traditional professions that have since gone extinct. Although you wouldn't know it, donkeys have always mixed well with couture, as jet setters habitually shopped from itinerant grocers, lightening their loads of flowers and fruit. This however is the first time a domesticated animal of this size has entered the Belvedere Hotel!
Luggage weight and seize allowance has never stopped globetrotting nomads from travelling the world with a wardrobe for every season. Porters have been indispensable throughout the history of the island and the Belvedere, in particular, as a number of our most prized guests like to keep their summer wardrobe in storage on hotel grounds year-round. Of course, that doesn't stop them from adding new pieces every time they set foot on the island!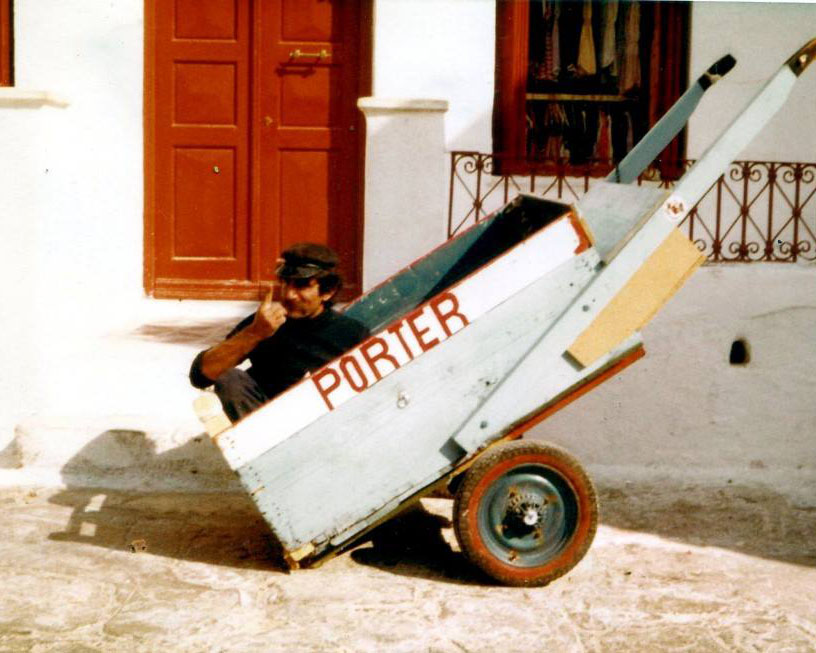 Greek supermodel Esther Mastrogianni tries her hand at octopus fishing, a notoriously difficult prey, said to be one of the smartest creatures to swim the blue sea! Nothing beats a Mykonian fisherman's nonchalance as he beats his delicious prey on the rocks – traditionally 40 times – to tenderise the meat that instantly goes rigid the minute it leaves the water. The island of Mykonos has always relied on fresh fish and seafood to appease the hungry summer masses, making the humble fisherman a king among men.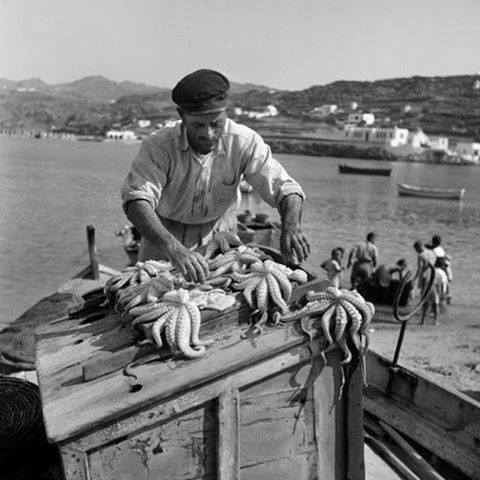 The iconic windmills of Mykonos were transformed into the perfect backdrop for swimsuit and resort wear in the 50s, signalling the era when fashion stopped being just about clothes and it became a lifestyle value.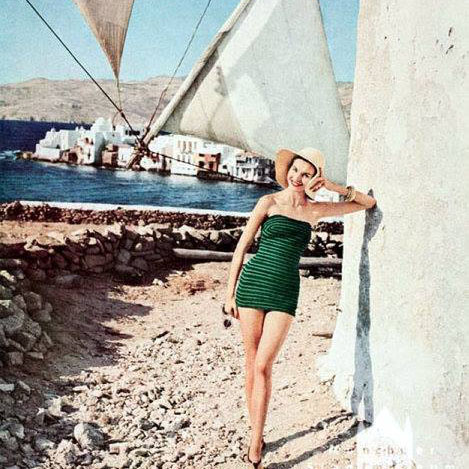 Taking a page from the Slim Aarons playbook, we have reimagined "The Poolside" in a Belvedere setting. Worshipping at the altar of the sparkling waters, his tribe of poised adventurers always converge around the pool, the only place where the intoxicating babble of their glamorous lives finally dies down and they can just tan under the tranquil sun.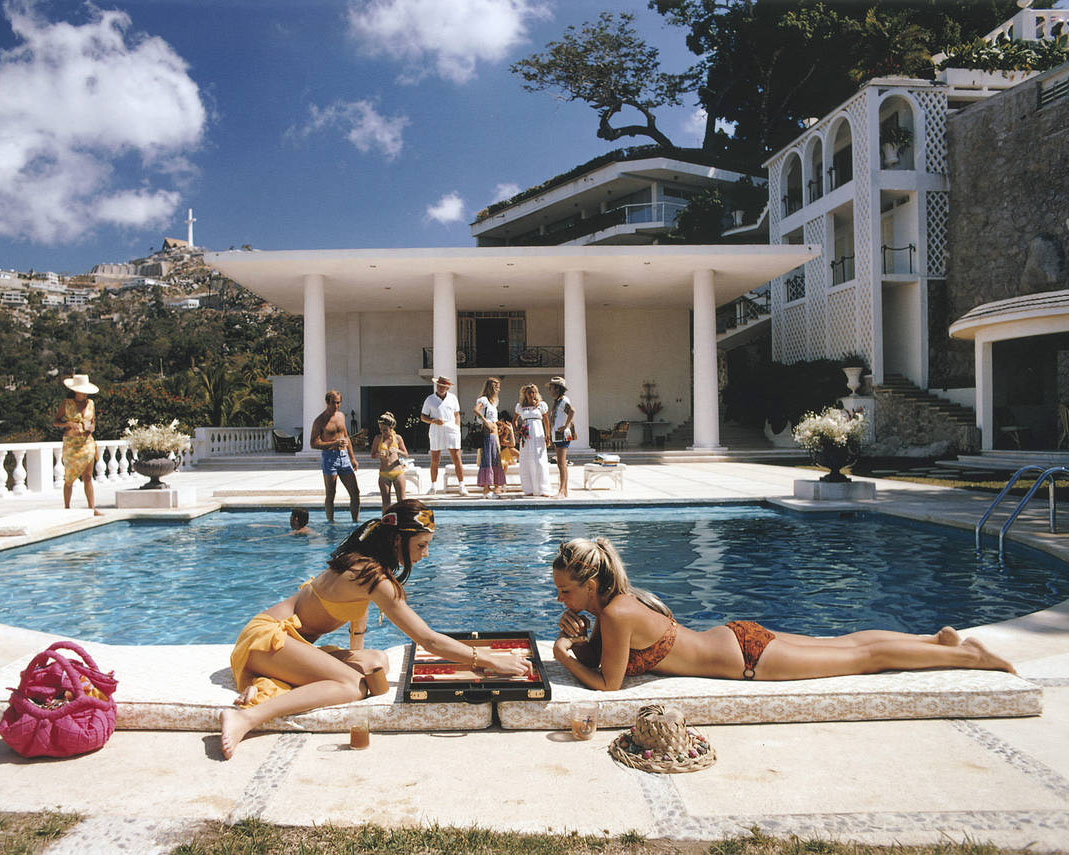 You might not think it, but there are entire generations of children that have been raised on Greek sunshine, spending one summer after the next on the island of Mykonos until it became part of their DNA. What is, after all, life, if not a magical balancing act, where children and a vibrant social life are all part of the same dizzying mix?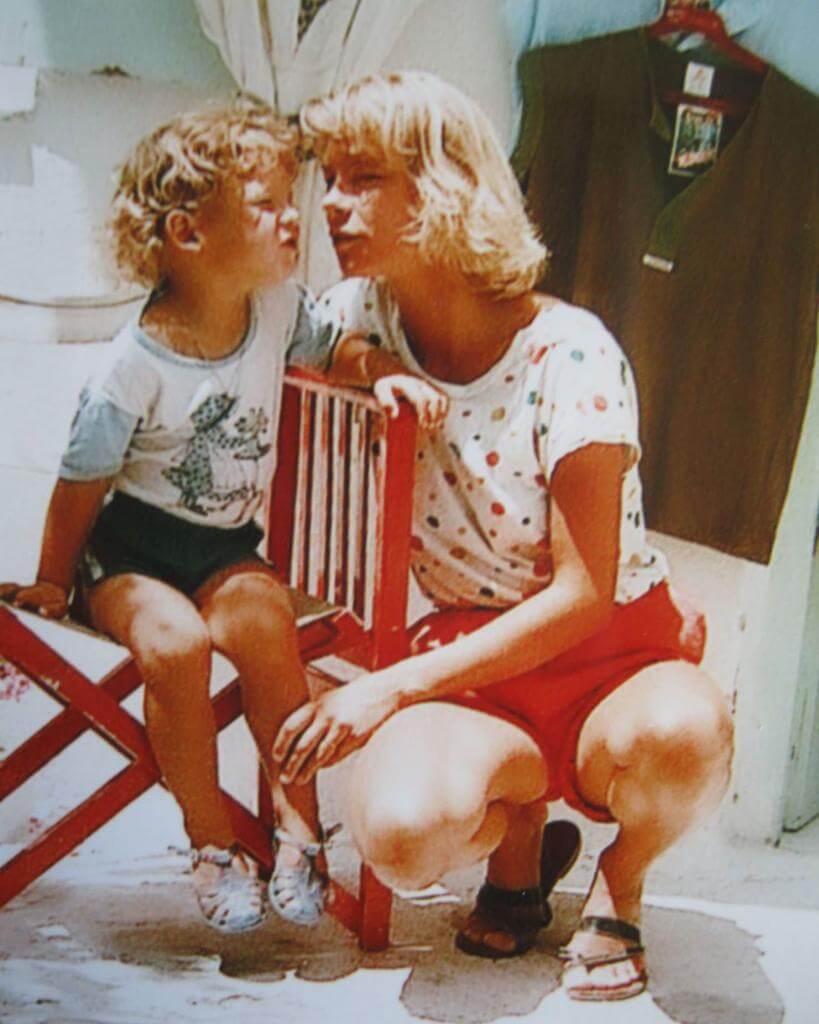 A good party in Mykonos always started in natural light, when everyone was at their most photogenic. The company was always mixed and guests started trickling in between 11 and noon, when last night's diversions had finally fizzled out and they were well and truly awake. It invariably stretched into late afternoon, that tricky hour when the sun begins to soften and whole lives have been known to go astray thanks to an endless supply of cocktails. Nighttime, the great equaliser, would find you flirty and flushed, convinced that on the island of Mykonos, dreams really do come true. Of that, you can rest assured!
Original Images Credits: Ioannidis family archive, Old Mykonos Facebook Group, Vogue US, Poolside with Slim Aarons Book.